No matter your application, we've got the right PTFE thread seal tape. With four widths to choose from, you can always apply the right amount of PTFE tape using the Thred Taper Automatic PTFE Tape Machine.
Our high quality PTFE tape is a standard 3.5 mils, twice as thick as standard PTFE tape. The thicker tape provides better quality and the need for less wraps, or decreased waste.
PTFE Thread Seal Tape is available in six different colors and five different widths.
Colors to choose from include:
White tape for a variety of applications
Green oxygen approved tape
Yellow natural gas, propane, butane and oil approved tape
Pink potable water approved tape
Black tape for air gun, airsoft and paintball applications
Nickel tape for stainless steel applications
Widths to choose from include:
3/16″ PTFE tape
1/4″ PTFE tape
3/8″ PTFE tape
1/2″ PTFE tape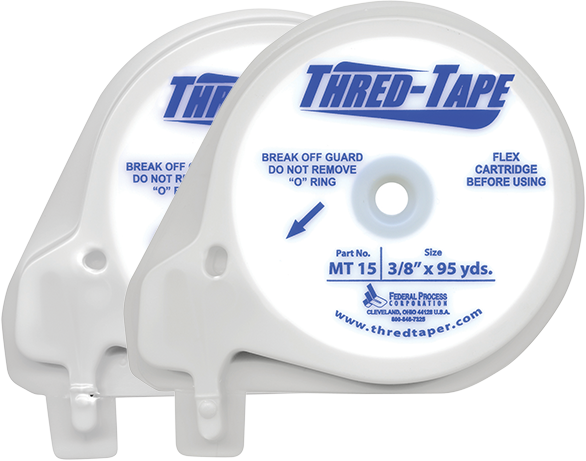 Colors to choose from include:
White tape for a variety of applications
Green oxygen approved tape
Yellow natural gas, propane, butane and oil approved tape
Pink potable water approved tape
Black tape for air gun, airsoft and paintball applications
Nickel tape for stainless steel applications
Widths to choose from include:
3/16″ PTFE tape
1/4″ PTFE tape
3/8″ PTFE tape
1/2″ PTFE tape
3/4″ PTFE tape